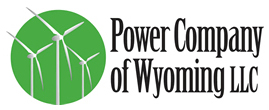 PCW secures transmission capacity to deliver Wyoming wind power to western electricity markets
March 16, 2022 – Power Company of Wyoming LLC has successfully negotiated customer agreements with TransWest Express LLC for transmission capacity on the TransWest Express Transmission Project.
PCW secured 1,500 MW of transmission capacity from Wyoming to Utah and 1,500 MW of transmission capacity from Wyoming to Nevada. This represents 100% of the capacity that was offered via TransWest's 2021 Open Solicitation in a process that was approved and then accepted by the Federal Energy Regulatory Commission.
PCW's Chokecherry and Sierra Madre Wind Energy Project is under construction in Carbon County, Wyoming, and is designed to ultimately provide over 3,000 MW of nameplate capacity. The CCSM Project's electricity is targeted to markets in the western United States that need highly reliable, utility-scale supplies of renewable energy. This energy can help western states and other entities meet their Renewable Portfolio Standards and emissions-reductions goals.
- XXX -